Dr.
Yung-Yung
Chang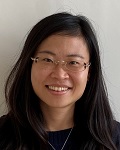 Internationales Kolleg für Geisteswissenschaftliche Forschung "Schicksal, Freiheit und Prognose. Bewältigungsstrategien in Ostasien und Europa"


IKGF Research Fellow
Curriculum Vitae
Yung-Yung Chang holds a PhD awarded by the Department of Political and Social Sciences, the Freie Universität Berlin, Germany, with the topic "East Asian Regionalism: Power, Interests, and Ideas. A Critical Assessment of ASEAN's role in the Evolution of East Asian Regionalism". In her doctoral work, she designed the supply-demand framework to argue and explain ASEAN's soft but strong influence (in comparison to China and Japan) in the East Asian integration process. Her research interests are very broad and interdisciplinary, which include regional integration in East Asia, global governance, China's external relations, and Chinese studies. Yung-Yung holds a dual master's degree from the LSE (MSc in Economic History) and Universität Wien (MA in Global Studies) and a B.A. in International Relations from National Taiwan University. Prior to working as Research Fellow for the IKGF, Yung-Yung worked as a Research Specialist at the Higher Education Evaluation and Accreditation Council of Taiwan (HEEACT). She has presented papers at conferences both at home and abroad, organized different workshops and conferences and has been invited as a guest speaker (lecturer) at FuJen University (Taiwan), Tartu University (Estonia) and the Free University of Berlin (Germany).
Selected Publications
The Post-Pandemic World: between Constitutionalized and Authoritarian Orders – China's Narrative-Power Play in the Pandemic Era. Journal of Chinese Political Science, 2020, Special Issue: 1-39
Understanding the BRI: an initiative to make China great again? European Journal of East Asian Studies, 2019, 18(1): 7-35.
---