Prof. Dr.
Stéphane
Feuillas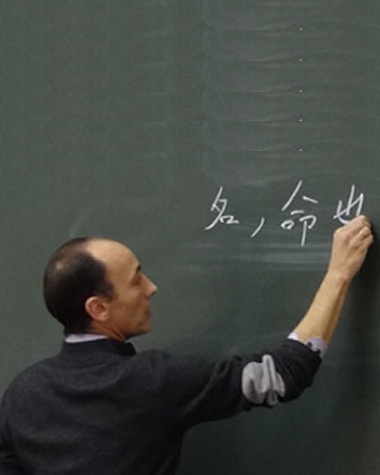 Internationales Kolleg für Geisteswissenschaftliche Forschung "Schicksal, Freiheit und Prognose. Bewältigungsstrategien in Ostasien und Europa"


IKGF Visiting Fellow September 2012 - August 2013
IKGF Research Projects
The Hidden Vacuity: Divination, Combinatorial arts and Rationality in the late work of Sima Guang (1019-1086)
Exegesis of the Yijing and the invention of divinatory practices in Song Dynasty China
Curriculum Vitae
Stéphane Feuillas, born on 18.01.1963, studied Sinology, Literature and Philosophy at the École Normale Supérieure in Paris, then continued his studies as a Lecturer in French Literature in Nanjing, China (1988-1990) and at Nagoya University, Japan (1990-1993). After completing his MA thesis in 1993 entitled "The commentaries of Wang Fuzhi on Zhang Zai's Zhengmeng", he undertook his PhD as an guest lecturer at the Paris 7 University on "Nature and Ethics in the Zhengmeng of Zhang Zai (1020-1078)". In 1999, he became an Assistant Professor at the Institute of Oriental Languages and Civilizations in Paris Diderot. In 2005, he was invited to join the Department of Philosophy of Wuhan University, and from 2009 began working with Anne Cheng at the College de France. His main fields of interest and research are Pre-Qin philosophy, the links between philosophy and literature in Song dynasty China, the Exegesis of the Book of Changes, and the Chinese history of thought, the theories of transformation and change and the culture of the self.
Selected publications
Books and Editions
Un Ermite reclus dans l'alcool et autres rhapsodies de Su Dongpo, traduction complète des 26 fu et présentation, Éditions « Caractères », 2003.
Les Commémorations de Su Shi, texte, traduction, annotations et introduction, Les Belles Lettres, 2010, Paris, CXXIX p + 302 p.
Chief Editor of Cahiers n° 2 du Centre Marcel Granet, Sujet, moi, personne, Presses Universitaires de France, août 2004, Paris.
Chief Editor of n° 26 de la revue Extrême-Orient Extrême-Occident, « De la difficulté de juger. Quelques ressources du mode critique en Chine et au Viêt Nam », Presses Universitaires de Vincennes, octobre 2004, Paris.
Co-editor of Le néo-confucianisme en Chine et dans l'Asie Orientale, des actes du Colloque tenu les 7 et 8 juin 2007 à l'ENS LSH. Parution aux Indes savantes prévue pour octobre 2011.
Proceedings
Sottise et sagesse en Chine pré-impériale : en préparation pour l'année 2012.
Les Nouveaux Propos de Lu Jia, traduction, annotations et introduction, Les Belles Lettres, octobre 2013, Paris.
Le Classique du changement commenté par Su Shi, traduction, annotations et introduction, Les Belles Lettres, 2014, Paris (contrat signé).
Articles
« Penser par contraste. Critique du bouddhisme et stratégies discursives dans le Zhengmeng de Zhang Zai (1020-1078), ibid., p. 89-116.
« La quête des hommes étranges. Treize poèmes de Su Shi pour devenir immortel », L'Infini, printemps 2005, p. 88-103.
« Influence et Sympathie dans la pensée de Zhang Zai et de David Hume », conférence en chinois donnée lors du colloque de mars 2005 à l'Académia Sinica de Taïwan, à paraître à l'automne 2007 à Taipei dans le vol. 13 de la collection « Modern Confucianism and East Asian Civilization ».
« L'Accès à l'âme du monde. Définitions et approches. A partir de l'œuvre de Zhang Zai (1020-1078) », n° 29 de la revue Extrême-Orient Extrême-Occident, p. 121-150.
« Rapprochements, signes, envois. Phénoménologie de la métaphore dans la poésie et la pensée de Su Shi (1037-1101) », in Cahiers d'Etudes japonaises édités par le GREJA, Éditions Picquier, 2008, Arles, p. 55-82.
« De Foucault à Su Dongpo : éléments pour une approche transculturelle de la culture de soi », in Frédéric Wang (éd.), Le Choix de la Chine aujourd'hui entre la tradition et l'Occident, Les Indes savantes, 2009, p. 61-76.
« Un lieu à soi ? Construction de l'espace et de soi chez Su Shi (1037-1101) », in Esthétiques de l'espace. Occident et Orient, volume édité par Jean-Jacques Wunenburger et Valentina Tirloni, éditions MIMESIS, collection L'œil et l'esprit, Paris, 2010, p. 27-46.
« Culture de soi et subjectivation. Quelques exemples à la fin du XIe siècle en Chine », article dans l'ouvrage collectif édité par Emmanuel Lozerand, Drôles d'individus. De l'individualité dans les sociétés holistes, 2012.
« Pingdan yu jiqing » , texte d'une conférence prononcée en chinois sur la fadeur et l'intensité dans la poésie de Su Shi dans le cadre du colloque international « Qihua yu pingdan : tansuo wenren meixue zhi dangdaixing » [Transformation énergétique et fadeur : Recherches sur la contemporanéité de l'esthétique lettrée], Academia Sinica, Taibei, les 20 et 21 novembre 2008. Actes à paraître en 2012.
---