Dr.
Sophia
Katz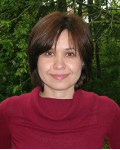 Internationales Kolleg für Geisteswissenschaftliche Forschung "Schicksal, Freiheit und Prognose. Bewältigungsstrategien in Ostasien und Europa"
Tel-Hai College
Upper Galilee, 1220800 Israel
IKGF Visiting Fellow April 2010 – March 2011
Researcher in Residence December 2011 – November 2013
IKGF Research Projects:
Curriculum Vitae
Sophia Katz is a lecturer in the Department of East Asian Studies at Tel-Hai College, Israel. Her research interests include the philosophy and literature of Imperial China, with her particular interest being comparative research between Confucian thought and monotheistic religions. Currently, she serves as principal researcher and coordinator for the research group "The Human Being as Center: Philosophical Dialogue between Chinese Thought and Judaism," supported by the Multidisciplinary Resilience Research Center at Tel-Hai. In the framework of her collaboration with IKGF, Sophia Katz is editing a volume of articles written by former IKGF visiting fellows, which assesses connections between divination and the phenomena of the strange. The completion of the volume is expected in 2017.
Publications
"Mavo" [Introduction], in: Ha-levena ve-ha-ruach: mivchar min ha-klasika ha-sinit [The Moon and The Wind: A Collection of Classic Chinese Literature], ed. by Chaim Tadmon, Tel-Aviv: Dehak, 2016, pp. 8-10.
The Way of Silent Realization: Ineffability and Rationality in the Philosophical Mysticisms of Sankara and Zhan Ruoshui, in: Brahman and Dao: Comparative Studies of Indian and Chinese Philosophy and Religion, ed. by Ithamar Theodor and Zhihua Yao, Landham: Lexington Books, 2014, pp. 35-52.
From Observin to Listening: The Intellectual/Spiritual Path of Shao Yong as Reflected in the Yichuan jirangji, in: Monumenta Serica 61 (2013), pp. 141-182.
"Tradition of Ruist Unrestrainedness: Zeng Dian, Shao Yong and Chen Xianzhang (6th c. BCE – 15th c. CE)," pp. 69-79 in At Home in Many Worlds: Reading, Writing, and Translating from Chinese and Jewish Cultures. Essays in Honour of Irene Eber. Edited by Raoul David Findeisen, Gad C. Isay, Amira Katz-Goehr, Yuri Pines and Lihi Yariv-Laor, Wiesbaden: Harrassowitz Verlag, 2009
"Tang Poetry" and "The Art of Chinese Poetry", in: Kol Asher mi-takhat le-shamaim: Sin Ha-Keisarit [All under Heaven: Imperial China (in Hebrew)], edited by Yuri Pines, Gideon Shelach and Yitzhak Shichor. Vol. 2. Raanana: The Open University Press, 2009, pp. 470-480.
"The Poetry of Unrestrained Sageliness: Shao Yong and a Tradition of Ruist Philosophical Mysticism." PhD diss., The Hebrew University of Jerusalem, 2009.
---