Prof. Dr.
Natascha
Gentz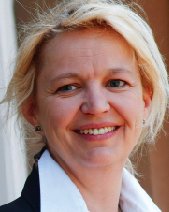 Internationales Kolleg für Geisteswissenschaftliche Forschung "Schicksal, Freiheit und Prognose. Bewältigungsstrategien in Ostasien und Europa"
Ulrich-Schalk-Str. 3a
91056 Erlangen
Telefon:

+49 9131 85 20607
Professor of Chinese Studies
IKGF Visiting Fellow November 2012 - April 2013
IKGF Research Project
Freedom, Fate and Free Will in Discourses on Chinese Tragedies
Curriculum Vitae
Natascha Gentz (Vittinghoff), took up the position as Chair of Chinese at the beginning of May, 2006. She studied in Germany at Heidelberg University, where she took her MA (1994) and PhD (1998) degrees. Her studies included residences at Fudan University, Shanghai (1988-1990), the People's University, Beijing (1995-6), and Tokyo University (1997). After her PhD, she became engaged in various funded research projects and in teaching in the Chinese Departments at the universities of Heidelberg and Göttingen. In 2002, she became Junior Professor at Frankfurt University, from where she came to Edinburgh. Her publications include a monograph on the history of Chinese journalism and two edited volumes, on transcultural knowledge transfer in Late Qing China, and on how the global media are shaping cultural identities. She has also published a book on contemporary Chinese historical drama as well as dozens of articles on Late Qing and contemporary Chinese drama, literature and media. She has also translated a novel and two volumes of short stories by the Chinese Nobel laureate author, Gao Xingjian.
Selected Publications:
Books and Editions
Geschichte der Partei entwunden - eine semiotische Analyse des Dramas Jiang Qing und ihre Ehemänner von Sha Yexin (1991). Bochum: projekt Verlag, 1995. 341 S.
Die Anfänge des Journalismus in China (1862-1911). Wiesbaden: Harrassowitz, 2002. 507 S.
(Ed.) with Michael Lackner, Mapping Meanings. The Field of New Learning in Late Qing China. Leiden: Brill, April 2004. (Introduction and article, see below.)
(Ed.) with Stefan Kramer, Globalization, Cultural Identities and Media Representations, New York: SUNY (Explorations in Postcolonial Studies Series), 2006.
Articles
"History and Heroes Privatim: Transformations of the Theatrical Norm in Sha Yexin´s Historical Dramas", China Information (Leiden), Spring 1997. S. 81-104.
"Readers, Publishers and Officials in Contest for a Public Sphere and the Shanghai Newspaper Market in Late Qing", T'oung Pao, 2001, no. 4-5. S. 393-455.
"China´s Generation X: Rusticated Red Guards in Controversial Contemporary Plays", Woei Lien Chong (ed.), China's Great Proletarian Cultural Revolution: Master Narratives and Post-Mao Counternarratives. Rowman Littlefield, 2002. S. 285-318.
"Unity vs Uniformity: Liang Qichao and the Invention of a 'New Journalism' for China", Late Imperial China, 23.1 (June 2002). S. 97-143.
"'British Barbarians' and 'Chinese Pigtails'? Translingual Practice in a Transnational Environment in 19th Century Hongkong and Shanghai", Bryna Goodman (ed.). Special Issue of China Review: "Transnational Dimensions of the Chinese Press", 4.1 (spring), 2004, 27-54.
"Introduction" and "Social Actors in the Field of New Learning", in: ibid. with Michael Lackner (eds.). Mapping Meanings. The Field of New Learning in Late Qing China. Leiden: Brill, 2004, S. 1-22, 75-118.
"How to Get Rid of China: Ethnicity, Memory and Identity in Gao Xingjian's Autobiographical Novel One Man's Bible", in: ibid. with Stefan Kramer (eds.), Globalisation, Cultural Identities and Media Representations, New York: SUNY., 2006. S. 119-142.
"Useful Knowledge and Proper Communication: Strategies and Models of Publishing Houses in the Formative Stage of the Chinese Press (1872 - 1882)", Rudolf G. Wagner (ed.), Joining the Global Public. Word, Image and City in the Early Chinese Newspapers 1870-1910, New York: SUNY, 2007, pp. 47-104.
(Reviews: Xu Wei, Hanxue yanjiu tongxun 106 (May 2008), pp. 58-60; Dorothe Schaab-Hanke, China Review International, 16.2 (2009), pp. 276-81; Andrea Janku, T'oung Pao, 96 (2010), pp. 265-277; Terry Narramore, Journal of Asian Studies, 69.2 (2010)., pp 576-8)
"Protestanten, Presse und Propaganda in China: Strategien der Aneignung und Selbstbehauptung von chinesischen Journalisten im 19. Jahrhundert", Dietmar Rothermund (ed.), Aneignung und Selbstbehauptung. Antworten auf die europäische Expansion, München: Oldenbourg, 1999. S. 137-160.
"Ein Leben am Rande des Ruhms: Cai Erkang (1852–1921)", Christina Neder, Heiner Roetz and Ines-Susanne Schilling (eds.), China in seinen biographischen Dimensionen. Gedenkschrift für Helmut Martin, Wiesbaden: Harrassowitz, 2001. S. 195-205.
"Diskurs und Geschichte: Frauen in der Öffentlichkeit in Chinas langem 19. Jahrhundert", Monika Übelhör (ed.), Zwischen Tradition und Revolution. Lebensentwürfe und Lebensvollzüge chinesischer Frauen an der Schwelle zur Moderne, Marburg: Verlag der Universitätsbibliothek, 2001. S. 11-45.
"Technik und die neue Ordnung der Stadt: Shanghai unter Strom (1850-1900)", Denise Gimpel and Melanie Hanz (eds.), Cheng - All in Sincerity. In Honour of Monika Übelhör, Hamburg, 2001 (Hamburger Sinologische Schriften 2), S.129- 48.
"Westliches Wissen in China: transkultureller Wissenstransfer und die sprachliche Handlungskompetenz seiner Akteure", Harald Fischer-Tiné (ed.), Handeln und Verhandeln. Kolonialismus, transkulturelle Prozesse und Handlungskompetenz, Münster (u.a.) 2002. S. 75–92.
"Jiang Qing and Nora. Drama and Politics in the Republican Period", in: Mechtild Leutner and Nicola Spakowski (eds.), Women in China. The Republican Period in Historical Perspective, Berlin: Lit Verlag, 2005. S. 208-241.
"Skizze zu den Frauenrollen im dramatischen Werk der zeitgenössischen Schriftstellerin Xu Pinli", Dorothee Schaab-Hanke & Judit Arokay (eds.), Auf anderen Wegen? Bemerkenswerte Frauen in Ost und Südostasien, Gossenberg: Ostasienverlag, 2007, S. 119-130.
"The appropriation of Tragedies in Meiji Japan and Late Qing China", in Olga Lomova (ed.) Path towards Modernity, in Honour of Jaroslav Prušek, Prague: Karolinum Press, 2008., pp. 221-238.
"Masse, Markt und Monopol. Chinas Medienpolitik im Wandel",Westend 1, 2008. Institut für Sozialforschung, Frankfurt , pp. 134-145.
"Verhandlung der Vergangenheit: Narrative der Kulturrevolution in Parteigeschichte, Literatur und populären Medien", in Chinesische Seelenlandschaften. Die Gegenwart der Kulturrevolution. Tomas Plänkers, Vandenhoeck und Ruprecht, 2010, 23-62.
"Die chinesische Presse der Jahrhundertwende im internationalen Kontext", in Ulrich Moeck (Hrsg.) Ausgewählte Kulturphänomene um 1900 in der Perspektive zeitgenössischer Fremdwahrnehmung, Goettingen: Vandehoeck und Rupprecht, 2010, 215-232.
---