Dr.
Martina
Siebert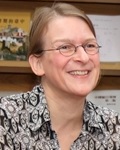 Internationales Kolleg für Geisteswissenschaftliche Forschung "Schicksal, Freiheit und Prognose. Bewältigungsstrategien in Ostasien und Europa"


Curriculum vitae
Trained in Chinese studies and History of science, my research interests centre on intellectual and material aspects of Chinese history and culture with a specialization in the history of science and technology from the 11th to the 19th century. I am especially interested in Chinese erudite interactions with, approaches to and explanations of the physical world that surrounded them. This includes the natural and the man-made, the reasonable and the strange. Concerning this last aspect my new project investigates the interstitial space where entertaining conjuring tricks, notions of magical omnipotence and fears of sorcery interacted.
I received my PhD at the Free University of Berlin in 2002 and have studied and worked at the Free University, the Technical University and the Humboldt University in Berlin, the University of Würzburg, the Chinese Normal University in Beijing, the Max Planck Institute for the History of Science and are now a research librarian and area specialist at the State Library of Berlin.
Selected Publications
Planning Plants: Growing and Organising Lotus in Qing Imperial Spaces (working title), in: Making the Qing Palace Machine Work (working title), ed. by Martina Siebert, Kaijun Chen & Dorothy Ko (in preparation).

Animals as Text: Producing and Consuming 'Text-Animals', in: Animals Through Chinese History (working title), ed. by Roel Sterckx, Martina Siebert & Dagmar Schäfer (under review).

Boxing Crickets – a Taxonomy of Containers for Singing and Fighting Ensifera, in: Boxes in Action (working title), ed. by Susanne Bauer, Maria Rentetzi & Martina Schlünder. Manchester: Mattering Press (under review).

Consuming and Possessing Things on Paper – Examples from Late Imperial China's Nature Studies, in: Living the Good Life. Consumption in the Qing and Ottoman Empires of the Eighteenth Century, ed. by Suraiya Faroqhi & Elif Akcetin. Leiden: Brill (2017).

Digitalisierung "Ostasiatisch" – Besonderheiten und Herausforderungen ostasiatischer Materialien in westlichen Digitalisierungsprojekten, in: Bibliotheksmagazin. Mitteilungen aus den Staatsbibliotheken in Berlin und München 1 (2014), pp. 57-63.

Klassen und Hierarchien, Kontrastpaare und Toposgruppen: Formen struktureller Eroberung und literarischer Vereinnahmung der Tierwelt im alten China, in: Zeitschrift der Deutschen Morgenländischen Gesellschaft 162 (2012), pp. 171-196.

Making Technology History. Chinese Concepts on the Origins of Things, in: Cultures of Knowledge: Technology in Chinese History, ed. Dagmar Schäfer. Leiden: Brill 2011, pp. 253-282.

Scienza e tecnologia (together with Angelika C. Messner), in: La Cina II. L'età imperiale dai Tre Regni ai Qing, ed. by Mario Sabattini & M. Scarpare. Roma: Grand Opere Einaudi, 2010, pp. 867-946.

Neue Formen für neue Themen – pulu 譜錄 als bibliographische Kategorie und als Schriften zu Sach- und Naturkunde (New topics need new forms – pulu as bibliographical category and genre for writing on material culture and nature studies), in: Das Reich der Mitte – in Mitte. Studien Berliner Sinologen. (Ed.) Florian C. Reiter. Wiesbaden: Harrassowitz 2006, pp. 59-70.

Artificial incubation of eggs and the Yijing – scholarly perceptions of peasant knowledge: the Buji of Huang Baijia (1643–1709), in: Über Himmel und Erde. Festschrift für Erling von Mende. (Eds.) Raimund Th. Kolb & Martina Siebert. Wiesbaden: Harrassowitz 2006, pp. 359-384.

Die bibliographische Kategorie der pulu. Abhandlungen und Auflistungen zu materieller Kultur und Naturkunde. Wiesbaden: Harrassowitz 2006 (310 pp.).
---