Prof. Dr.
Marta
Hanson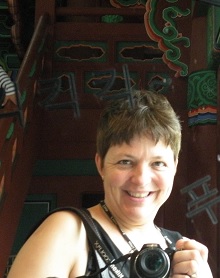 Internationales Kolleg für Geisteswissenschaftliche Forschung "Schicksal, Freiheit und Prognose. Bewältigungsstrategien in Ostasien und Europa"
Hartmannstr. 14
91052 Erlangen
Associate Professor
IKGF Visiting Fellow October 2011 - July 2012
IKGF Visiting Fellow May 2016 - July 2016
(Last change of profile by end of stay)
IKGF Research Project:
Understanding is Within One's Grasp ( Liaoran zaiwo 遼 然 在 握): A Cultural History of Bodily Arts of Memory, Prognostication, and Being in Chinese Medicine
Curriculum Vitae
My first monograph Speaking of Epidemics in Chinese Medicine: Disease and the Geographic Imagination in Late Imperial China (Routledge, 2011) weaves together three threads through most of imperial Chinese history. I use the heuristic device of a biography of the Chinese disease concept wenbing (warm diseases) to bring out important transformations in both traditional Chinese epidemiology as well as what I call the Chinese geographic imagination. Related to this book, I have started to research the history of "Visualizing the Geography of Disease in China" from the earliest disease maps of China in the 1870s to their transformations based on laboratory medicine, new colonial, semi-colonial, and Chinesestate public health institutions, and vital statistics gathering up to the 1930s.
My second book project Chinese Medical Mancy: Arts of Memory, Medicine, and the Mantic Arts in Late Imperial China asks the following questions: What knowledge was considered important enough to memorize, what range of people memorized, how did they memorize, and where was such memorized knowledge valorized, performed, and used? I use the phenomenon of hand mnemonics as a heuristic device then to enter both the person′s mind who might have used the hand mnemonic and the social world in which the knowledge summarized on the hand was considered valuable enough to memorize. Divination, fate prediction, and medical prognosis are just some arenas of knowledge in which memorization was not only highly valued in Chinese culture but also truly pragmatic in daily life.
Selected Publications
Books and Editions
Speaking of Epidemics in Chinese Medicine: Disease and the Geographic Imagination in Late Imperial China. Needham Research Institute Series on East Asian Science, Technology, and Medicine. London: Routledge Press, 2011.
Co-edited with Judith Farquhar, "Empires of Hygiene," special issue of Positions: East Asia Cultures Critique, 6.3 (Winter 1998). Durham: Duke University Press, 1998.
Chapters in Books
"Robust northerners and delicate southerners: the nineteenth-century invention of a southern wenbing tradition." Innovation in Chinese Medicine, ed. by Elisabeth Hsu (Cambridge, England: Cambridge University Press, 2001): 262–292.
"Bei gongfa, Nan buyang: Mingdai yixue de fengtu guan" 北攻伐, 南補養:明代醫學的風土觀 (Northern Purgatives, Southern Restoratives: Ming Medical Regionalism). Chinese version. Cong yiliao kan zhongguo shi 從醫療看中國史 (Medical Perspectives on Chinese History). Ed. Li Jianmin, Academia Sinica, History and Philology Institute, Taiwan, 2008.
"Conceptual Blind Spots, Media Blindfolds: The Case of SARS and Traditional Chinese Medicine," 369–410. In Angela Ki-Che Leung and Charlotte Furth, eds., Health and Hygiene in Chinese East Asia: Publics and Policies in the Long Twentieth Century. Chapel Hill: Duke University Press, 2011.
Articles
"The art of medicine: Maoist public-health campaigns, Chinese medicine, and SARS." The Lancet, vol. 372 (Oct. 25, 2008): 1457-8.
"Hand Mnemonics in Classical Chinese Medicine: Texts, Earliest Images, and Arts of Memory." Festschrift issue in honor of Nathan Sivin, Asia Major series 3, 21.1 (2008): 325-57.
"Northern Purgatives, Southern Restoratives: Ming Medical Regionalism." English version. Asian Medicine 2.2 (2006): 115-170.
"The Significance of Manchu Medical Sources in the Qing." Proceedings of the First North American Conference on Manchu Studies (Portland, OR, May 9-10, 2003): 131-175. Tunguso Sibirica 15, Vol. 1: Studies in Manchu Literature and History. Ed. by Wadley Stephen and Carsten Naeher in collaboration with Keith Dede. Weisbaden: Harrassowitz Verlag, 2006.
"Manchu Medical Manuscripts and Blockprints: An Essay and Bibliographic Survey." Saksaha: A Review of Manchu Studies 8 (2003): 1-32.
"The Golden Mirror in the Imperial Court of the Qianlong Emperor, 1739-1742." Special issue ed. by Catherine Jami on Science and State Patronage in Early Modern East Asia, Early Science and Medicine 8.2 (2003): 111-147.
"Arts of Memory and the Mantic Arts in Ming Medicine: The Case of Zhang Jiebin′s Illustrated Classified Canon, 1624." Chinese Studies, Center of Chinese Studies Journal, National Central Library, Taiwan. (In Review Process).
"The Mysterious Names on the Hands & Fingers." Translation of the earliest Buddhist examples of hand mnemonics for meditation and healing for Buddhism & Healing in East Asia, ed. by Pierce Salguero (In preparation & due Oct 1).
"The ′Zodiac Man′ as a Mnemonic Table: A Comparison of Corporeal Arts of Memory in Early modern Europe and China." Co-authored with Stephano Rapisarda. (In preparation)
---