Dr.
Manuel
Kamenzin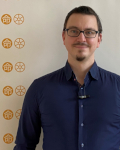 Internationales Kolleg für Geisteswissenschaftliche Forschung "Schicksal, Freiheit und Prognose. Bewältigungsstrategien in Ostasien und Europa"


IKGF Visiting Fellow February 2020 – June 2021
IKGF Research Project:
On Eagles, Lions and Things to come. Prophecies in the Late-medieval Holy Roman Empire.
Curriculum Vitae
Manuel Kamenzin studied history at the Ruprecht-Karls-University Heidelberg. He earned his PhD in 2017 with a thesis on the deaths of the Holy Roman Kings and Emperors (12th - 14th century). For his second book, he is working on the connections of politics and prophecies in the Holy Roman Empire of the later middle ages. His research project at the Consortium focuses on the long-term history of a specific prophecy and comparisons regarding the prophetic traditions on the Holy Roman Empire and England.
Education/Training
| | |
| --- | --- |
| 2008-2011 | Ruprecht-Karls-University Heidelberg, Bachelor of Arts |
| 2011-2013 | Ruprecht-Karls-University Heidelberg, Master of Arts |
| 2013-2017 | Ruprecht-Karls-University Heidelberg, PhD |
Employment/Experience
| | |
| --- | --- |
| 2013-2017 | Scientific Assistant at the Chair for Medieval History (Professor Bernd Schneidmüller) of the Ruprecht-Karls-University Heidelberg |
| 2017- | Academic Researcher (PostDoc) at the Chair for History of the Middle Ages, especially Late Middle Ages (Professor Klaus Oschema) of the Ruhr-University Bochum |
| 2010-2013 | Basic scholarship ('Büchergeld') by the Studienstiftung des deutschen Volkes |
| 2007 | Franz-Schnabel-Medaille of the Oberrheinische Stiftung Geschichte und Kultur |
Selected Publications
Book
| | |
| --- | --- |
| 2020 | Die Tode der römisch-deutschen Könige und Kaiser (1150-1349), (Mittelalter-Forschungen 64), Ostfildern 2020. |
Articles
| | |
| --- | --- |
| forthc. | Von Herrschertoden, Buchgrenzen und Erkenntnismöglichkeiten. Die Tode der ottonischen Könige und Kaiser bei Thietmar von Merseburg, in: Band zur Tagung "Historiographie der Grenzwelten - Thietmar von Merseburg" [accepted for publication]. |
| 2019 | Wie es einem König gebührt? Die Beisetzung Rudolfs von Habsburg in Speyer in der Tradition königlicher Grablegen des 13./14. Jahrhunderts, in: König Rudolf I. und der Aufstieg des Hauses Habsburg im Mittelalter, hg. von Bernd Schneidmüller, Darmstadt 2019, S. 269-293. |
| 2019 | Denn wer wolt sich wider ein solchen ehrlichen hauffen der Hohen Schulen legen? Paracelsus und die Universitäten, in: Universitäten und ihr Umfeld. Südwesten und Reich in Mittelalter und Früher Neuzeit. Beiträge zur Tagung im Universitätsarchiv Heidelberg am 6. und 7. Oktober 2016, hg. von Benjamin Müsegades und Ingo Runde (Heidelberger Schriften zur Universitätsgeschichte 7), Heidelberg 2019, S. 139-163. |
Other
| | |
| --- | --- |
| Open Educational Ressource: Übungen zu speziellen Methoden und Theorien: "Forschungskontroversen und Methodendiskussionen in der jüngeren Mediävistik" | External Link |
| List of publications, talks and seminars are available on my homepage | External link |
---