Prof. Dr.
Lothar
von Falkenhausen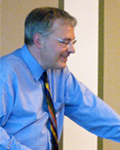 Internationales Kolleg für Geisteswissenschaftliche Forschung "Schicksal, Freiheit und Prognose. Bewältigungsstrategien in Ostasien und Europa"
Ulrich-Schalk-Str. 3a
91056 Erlangen
IKGF Visiting Fellow Sept. + Dec. 2011
(Last change of profile by end of stay)
IKGF Research Project:
Early Chinese Divination Texts and Bronze Inscriptions
Curriculum Vitae
I was born in Essen, West Germany, in 1959, and attended primary school and high school in Essen. After attending Bonn University with a double major in Sinology and Art History from 1977-1979, I studied archaeology at Peking University on a German Academic Exchange Service scholarship from 1977 to 1979. I thereafter became a graduate student at Harvard University, where I obtained an MA in East Asian Studies in 1982 and a PhD in archaeology in 1988; during that time, I participated in archaeological field work in Korea (1983 and 1984) and studied as a visiting research fellow at Kyoto University with a fellowship from the Japanese Ministry of Education. From 1988 to 1990, I taught as a Mellon Postdoctoral Fellow in the Department of Asian Languages at Stanford University, and I spent the 1990-1991 academic year as a Getty Fellow at the Institute of Archaeology, Chinese Academy of Social Sciences, in Beijing. After teaching for two years at the University of California, Riverside, I joined the faculty of the Art History Department at UCLA, where I have been teaching ever since; I was promoted to Full Professor in 1996, and since 2004 I have been serving concurrently as Associate Director of the Cotsen Institute of Archaeology at UCLA. I have served as a visiting professor at the University of Heidelberg (1997), the École Pratique des Hautes Études, Paris (1998), Kyôto University (2002-2003), the Chinese University of Hong Kong (2007), and the University of Münster (2008), and I have been affiliated as a visiting researcher with the Academia Sinica, Taiwan (1994-95), the Norwegian Academy of Sciences (2000), and the Research Institute for Humanity and Nature, Kyoto (2003).
My research concerns the archaeology of Bronze Age China, on which I have published two books and more than one hundred articles and reviews; I have also edited approximately half a dozen books, and for several years served as the founding co-editor of the Journal of East Asian Archaeology. In 1999-2004, I was the American PI of the International archaeological field project on Salt Archaeology in the Three Gorges of the Yangzi River; since 2009 I have been UCLA's representative for the International Archaeological Field School at Yangguanzhai (Shaanxi).
I have been a citizen of the United States since 2004. In 2011, I was elected to the American Academy of Arts and Sciences.
Selected Publications
Books
Chinese Society in the Age of Confucius (1000-250 BC): The Archaeological Evidence. Los Angeles: Cotsen Institute of Archaeology, UCLA, 2006.
Suspended Music: Chime-Bells in the Culture of Bronze Age China. Berkeley and Los Angeles: University of California Press, 1993.
Edited Volumes
The Lloyd Cotsen Study Collection of Chinese Bronze Mirrors. 2 volumes. Los Angeles: Cotsen Institute of Archaeology, 2009/2011.
Studies of Chinese Art History in Honor of Professor Lothar Ledderose. Cahiers d'Extrême-Asie 17 (2010).
Salt Archaeology in China / Zhongguo yanye kaogu 中國鹽業考古. v. 1-2. (editor, with Li Shuicheng 李水城). Beijing: Kexue Chubanshe, 2006/2010.
Book Chapters and Articles (excluding review articles)
"The Royal Audience and Its Reflections in Western Zhou Bronze Inscriptions." To appear in Writing and Literacy in Early China, Li Feng and David Prager Branner (eds.), pp. 239-270. Seattle, Wash.: University of Washington Press, 2011.
"The Bronzes of Ying and Their Inscriptions." In Zhongguo gudai qingtongqi guoji yantaohui lunwenji 中國古代青銅器國際研討會論文集 (Collected Studies on Ancient Chinese Bronzes), Jenny So et al. (ed.), pp. 890-160. Shanghai: Shanghai Bowuguan, and Hong Kong: Xianggang Zhongwen Daxue Wenwuguan, 2010.
"Antiquarianism in Eastern Zhou Bronzes, and Its Significance." To appear in Reinventing the Past: Archaism and Antiquarianism in the Chinese Arts and Visual Culture, Wu Hung (ed.), pp. 77-102. Chicago: ArtMedia Resources, 2010.
"From Action to Image in Early Chinese Art." Cahiers d'Extrême-Asie 17 (2010): 51-91.
"The Xinzheng Bronzes and Their Funerary Contexts." Zhongguo Wenhua Yanjiusuo xuebao tekan 2 (2009): 1-130 (Hong Kong: Chinese University of Hong Kong).
"Stages in the Development of "Cities" in pre-Imperial China." In The Ancient City: New Perspectives on Urbanism in the Old and New World, Joyce Marcus and Jeremy Sabloff (eds.), pp. 209-228. Santa Fé: School of Advanced Studies Press, 2008.
"Archaeological Perspectives on the Philosophicization of Royal Zhou Ritual." In Perceptions of Antiquity in China, Dieter Kuhn and Helga Stahl (ed.), pp. 135-175. Würzburger Sinologische Schriften. Heidelberg: edition forum, 2008.
"Xi Zhou tongqi mingwen de xingzhi" 西周銅器銘文的性質 (The nature of Western Zhou bronze inscriptions), Lai Guolong 來國龍 (trsl.). Kaoguxue yanjiu 考古學研究 6 (2006) (Festschrift for Professor Gao Ming), pp. 343-374.
"The Inscribed Bronzes from Yangjiacun: New Evidence on Social Structure and Historical Consciousness in Late Western Zhou China (c. 800 BC)." Proceedings of the British Academy 139 (2006): 239-295.
"The Salt of Ba: Reflections on the Role of the 'Peripheries' in the Production Systems of Bronze Age China." Arts Asiatiques 61 (2006) (Festschrift for Michèle Pirazzoli-t'Serstevens, Alain Thote [ed.]), pp. 45-56.
"The E Jun Qi Metal Tallies: Inscribed Texts and Ritual Contexts." In Text and Ritual in Early China, Martin Kern (ed.), pp. 79-123. Seattle: University of Washington Press, 2005.
---