Dr.
Liying
Wang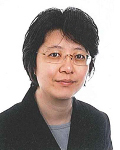 Internationales Kolleg für Geisteswissenschaftliche Forschung "Schicksal, Freiheit und Prognose. Bewältigungsstrategien in Ostasien und Europa"
Ulrich-Schalk-Str. 3a
91056 Erlangen
Home Institution: Konstanz University (Germany)
IKGF Visiting Fellow Oct. 2010 - Sept. 2011
(Last change of profile by end of stay.)
IKGF Research Project:
The Perception of Destiny and Contingency in the Works of Gao Xingjian, esp. the Work "One Man's Bible"
Curriculum Vitae
Dr. Wang was born in Liaoning, China, in 1966. She studied German at the Beijing Foreign Studies University (北京外国语大学) in Peking. She continued her studies in Germany in 1990, where she read Linguistics and German Literature at the University of Konstanz. She completed her doctoral degree in German literature in 2001 on the topic of German travel reports about China in early 20th century. She is currently finalizing her Habilitation in the Philosophy department at the Friedrich-Alexander University Erlangen-Nürnberg working on contingency management in works of the nobel price winner Gao Xingjian. Prior to joining the IKGF, Dr. Wang worked as a lecturer at the University of Konstanz, where she taught Chinese. As a research associate she analysed at the Psychosomatik Stiftung in Stuttgart biographical reactions towards traumatical social changes from the prespective ot the cultural revolution in China. Currently being a visiting scholar of the IKGF, Dr. Wang brings in not only her sinological, but also linguistic and psychological expertise to shed light on the perception of destiny and contingency in the works of Gao Xingjian. In addition, she lectures at the Department of Middle Eastern and Far Eastern Languages and Cultures (Chinese Studies) at the Friedrich-Alexander University Erlangen-Nürnberg.
Publications
Erfahrungen im Reich der Mitte. Deutsche Reiseberichte über China in der ersten Hälfte des 20. Jahrhunderts. Münster: Lit Verlag, 2002, 299 S. (Dissertation).
Von der Moral zur Psychoanalyse. Zur Verschiebung der Perspektive in Bertoluccis Film "Der letzte Kaiser". In: Orientierungen. Zeitschrift zur Kultur Asiens 1/2004; S. 122-143.
Buchbesprechung zu Xu Yan: Primat des Nützlichen. Politische Dimensionen des Fremdsprachenunterrichts im modernen China. In: China-Report, 39/2003; S.26-27.
Buchbesprechung zu Gunter Schubert: Chinas Kampf um die Nation. Dimensionen nationalistischen Denkens in der VR China, Taiwan und Hongkong an der Jahrtausendwende. In: China-Report, 41/2004; S. 37-38.
Begegnungen mit China oder den Chinabildern? In: Wenjian Jia / Jinfu Tan (Hg.): Kommunikation mit China. Eine chinesische Perspektive. Frankfurt am Main / Berlin / Bern u.a.: Peter Lang, 2005; S. 19 – 46.
Die Große Proletarische Kulturrevolution (1966–1976) als Kontingenzerfahrung. In: Tomas Plänkers (Hg.): Chinesische Seelenlandschaften. Die Gegenwart der Kulturrevolution (1966–1976). Schriften des Sigmund-Freud-Instituts, Band 7. Göttingen: Vandenhoeck & Ruprecht, 2010; S. 63 – 87.
---