Dr.
Josefina
Rodriguez Arribas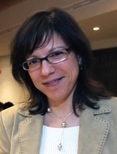 Internationales Kolleg für Geisteswissenschaftliche Forschung "Schicksal, Freiheit und Prognose. Bewältigungsstrategien in Ostasien und Europa"
Hartmannstr. 14
91052 Erlangen
Researcher
IKGF Visiting Fellow October 2014 - September 2015
IKGF Research Project
Anticipating Future In Medieval Thought: Geomancy Among Jews
Curriculum vitae
Josefina Rodríguez Arribas has substantial research experience in the field of the history of medieval science (astronomy, astrology, and scientific instruments) and medieval Hebrew language (the emergence and constitution of technical terminology in medieval Hebrew). She is especially interested in critical approaches to the definition of pre-modern science, the presence of science in non-scientific texts and contexts, and the relations of textual and material cultures in medieval science. She has extensively worked on the transmission of Greek and Roman knowledge to Europe through Arabic and Hebrew texts and translations. She also has long experience with medieval manuscripts and museum objects. Since 2009, her research has focused on the relations between the textual and material scientific cultures of Jews, notably the cultural role of astrolabes among Jews in Europe and the Near East between the 12th and 17th centuries. She has published a book (El cielo de Sefarad: los judíos y los Astros) and several chapters and articles on medieval astronomy and astrology, and is preparing two books on the role of astrolabes in medieval Jewish culture (texts and instruments), which include critical editions of the Hebrew treatises and a catalogue of astrolabes with Hebrew script.
Dr. Rodríguez has presented over 40 lectures at international congresses in Europe, the USA, Japan, and Israel on topics related to medieval science, medieval Hebrew, Jewish biblical exegesis, Jewish cosmology, and astronomical instruments, and has been a Fellow at Harvard University, Oxford University, the Hebrew University of Jerusalem, the University of Michigan, and the University of London. She is currently a researcher at the Warburg Institute.
Selected Publications
Books and Editions
"Reading Astrolabes in Medieval Hebrew", J. Feichtinger, M. MacLeod, and al. (eds.), Language as a Scientific Tool (Collected proceedings from the workshop held at Austrian Academy of Sciences in November 2010), 2014 (forthcoming).
"Quantitative Concepts in Hellenistic and Medieval Astrology", Ch. Burnett and Dorian Gieseler Greenbaum (eds.), From Masha'allah to Kepler, London: Warburg Institute, 2014, pp. (forthcoming).
"Medieval Jews and Medieval Astrolabes: Where, Why, How, and What for?", Sacha Stern and Charles Burnett (ed.), Time, Astronomy, and Calendars in the Jewish Tradition, Leiden-Boston: Brill, 2013, pp. 221-272.
El cielo de Sefarad: Los judíos y los astros (siglos XII y XIV), Córdoba: Ediciones El Almendro, 2011.
"The Testimonies in Medieval Astrology: Finding Degrees of Certitude in Astrological Judgments", Pascale Hummel (ed.), Doxa, Études sur les formes et la construction de la croyance, Paris: Philologicum, 2010, pp. 115-133.
The Encyclopedia of Jews in the Islamic World, Norman A. Stillman (ed.), Leiden: Brill, 2010, 8 entries ("Abraham Bar Hiyya", "Abraham of Toledo", "Bahya (Pseudo)", "Hasan ben Mar Hasan", "Ibn Ezra, Abraham", "Ibn Matqah", "Judah ben Solomon ha-Kohen", "Ibn Tibbon, Jacob ben Makir", and "Judah ben Moses ha-Kohen").
"Horoscopes of Israel in Medieval Spain", Gunther Oestmann, Darrel Rutkin and Kocku von Stuckrad (ed.), Horoscopes and Public Spheres: Essays on the History of Astrology, Berlin-New York: Walter de Gruyter, 2005, pp. 145-164.
Articles
"A 12th Century Catalogue of Divinatory Practices in Hebrew: Translation and Commentary", Aleph Historical Studies in Science and Judaism (submitted).
"Finis ab Origine Pendet: Death according to Medieval Astrological Sources in Hebrew", Pecia 17 (2014) (forthcoming).
"Terminology for Historical Astrology according to A. Bar Hiyya and A. Ibn Ezra", Aleph Historical Studies in Science and Judaism 11.1 (2011), pp. 201-244.
"Jewish Astrolabes: That Obscure Object of Medieval Knowledge", The Frankel Institute Annual, 2010, pp 15-17. Reprint in The Shekel 44,5 (2011), pp. 6-11.
"Science in Poetic Contexts: The Case of Astronomy in Medieval Hebrew", MEAH Miscelánea de Estudios Árabes y Hebraicos 59 (2010), pp. 167-202.
"Did Abraham ibn Ezra Maintain a Circumsolar Arrangement of Venus and Mercury?", Nuncius 26.2 (2010), pp. 191-212.
"Astronomical and Astrological Terms in Ibn Ezra's Biblical Commentaries: A New Approach", Culture and Cosmos 13.1 (2009), pp. 3-21.
"Significance of the Equinoxes in Abraham ibn Ezra's Cosmology", Helmantica 175 (2007), pp. 91-116.
"Les significations de 'Ê¿et' et de 'zeman' dans le commentaire de Qohélet d'Abraham ibn Ezra", Révue des Études Juives 165, 3-4 (2006), pp. 435-444.
"Imágenes de la influencia astral en los escritos de Abraham ibn Ezra", Helmantica 167 (2004), pp. 231-246.
"El profeta Oseas y la astrología en el comentario bíblico de A. ibn Ezra", MEAH Miscelánea de Estudios Árabes y Hebraicos 52 (2003), pp. 243-261.
"Un horóscopo de Israel en el comentario a Números de Abraham ibn Ezra", MHNH, Revista internacional de investigación sobre magia y astrología antiguas 3 (2003), pp. 203-216.
---