apl. Prof. Dr.
Claudia
von Collani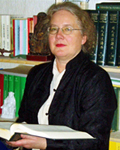 Internationales Kolleg für Geisteswissenschaftliche Forschung "Schicksal, Freiheit und Prognose. Bewältigungsstrategien in Ostasien und Europa"


IKGF Visiting Fellow Jan. – June 2011 and Oct. 2011 – March 2012
(Last change of profile by end of stay)
IKGF Research Projects:
Curriculum Vitae
Claudia von Collani is a catholic missiologist with focus on the Far Eastern mission period of ca. 1550-1800. She studied at the University of Würzburg and graduated with a doctoral thesis on the Chinese Figuristic system of Joachim Bouvet. Von Collani received her habilitation – that deals with the treaty "Lex gratiae und lex naturae" – in Münster in 2005, where she has been teaching since then. One of her specialist fields for decades has been Figurism in China, which she has covered in several publications. Besides that, her fields of interest are mission history, the Chinese Rites Controversy, cultural exchange between Europe and China, the history of science, inculturation, and stories about the strange events and encounters of the Christians and missionaries in the Far East. She has participated in many international conferences in China and Europe and has contacts at Monumenta Serica, Sankt Augustin/Germany, the Ricci Macau Institute, the Verbiest Stichting in Leuven, and the Ricci Institutes in San Francisco and Paris.
International research projects
Nicolas Standaert (ed.), Handbookof Christianity in China. Volume One: 635–1800 (Leiden, Köln 2001)
Adrian Hsia, Ruprecht Wimmer (eds.), Mission und Theater. Japan und China auf den Bühnen der Gesellschaft Jesu (Jesuitica: Quellen und Studium zu Geschichte, Kunst und Literatur der Gesellschaft Jesu im deutschsprachigen Raum, No. 7) (Regensburg 2005) (three articles).
Internet project "Encyclopedia" of the company Stochastikon GmbH (Prof. Elart von Collani): 161 bio-bibliographies of scientists and 55 of important persons of the China mission.
Member of the ongoing research project, "The 'Acta Pekinensia' of Kilian Stumpf SJ" at the Instituto Ricci de Macau (together with Profs. Paul Rule and António Vasconcelos de Saldanha), and of the project Provinzgeschichte der sächsischen Franziskanerprovinz von den Anfängen bis zum Ende des 20. Jahrhunderts, volume: Missionswissenschaftliche Tätigkeit der Provinz (Institut für Franziskanische Forschung, Münster).
Together with Daniel Cook and Alan Berkowitz, she is working on a scientific edition of the English translation of the correspondence between Joachim Bouvet and Gottfried Wilhelm Leibniz.
Selected Publications
Von Collani's publications include five books, more than 110 articles, and about 100 book reviews.
Important publications:
Joachim Bouvet, S.J., Journal des voyages, ed. by Claudia von Collani (Variétés Sinologiques New Series 95) (Taipei 2005).
Together with: Harald Holz and Konrad Wegmann (eingeleitet, erstmalig herausgegeben, übersetzt und erläutert), Uroffenbarung und Daoismus. Jesuitische Missionshermeneutik des Daoismus (Reihe Daodejing-Forschungen / Series Daodejing Research vol. 1) (European University Press, Bochum 2008) (transcription and translation of the first chapter of the first translation of the Daodejing into a European language, project not yet completed).
"Helden, Heiden und Märtyrer: Ostasien im deutschen Jesuitentheater. Ein Überblick", in: Christel Meier / Angelika Kemper (Hgg.), Europäische Schauplätze des frühneuzeitlichen Theaters. Normierungskräfte und regionale Diversität (Symbolische Kommunikation und gesellschaftliche Wertesysteme. Schriftenreihe des Sonderforschungsbereichs 496 Band 34) (Münster 2011) pp. 369-416.
"Dialoge, Dispute, Diskussionen. Interreligiöse Gespräche in der Ostasienmission", in: Mariano Delgado, Michael Sievernich (eds.), Mission und Prophetie in Zeiten der Interkulturalität. Festschrift zum hundertjährigen Bestehen des Internationalen Instituts für missionswissenschaftliche Forschungen 1911–2011 (St. Ottilien 2011) pp. 198-207.
"Between Mission, Martyrdom and Mathematics: Antoine Thomas and Japan", in: Ku Weiying, Zhao Xiaoyang (eds.), Multi-aspect Studies on Christianity in Modern China. From Antoine Thomas S.J, to Celso Costantini (Beijing 2011) pp. 598-639.
Selected recent articles:
"The first Encounter of the West with the Yijing. Introduction to and Edition of Letters and Latin Translations by French Jesuits from the 18th Century", Monumenta Serica LV (2007).
"Inventory and Classification of the Most Important Documents Concerning the Chinese Rites Controversy", in: Martin Woesler (ed.), Recht und Gerechtigkeit in China. Festschrift zum 75. Geburtstag von Konrad Wegmann. Beiträge des Symposiums vom 8. Dezember 2007 an der Hochschule für Angewandte Sprachen, SDI München (München 2007).
"Parishes, Priests and Lay People: Christian Communities as Described in the Neue Welt-Bott", in: Noël Golvers, Sara Lievens (eds.), A lifelong dedication to the China Mission. Essays presented in Honor of Father Jeroom Heyndrickx, CICM, on the Occasion of his 75th Birthday and the 25th Anniversary of the F. Verbiest Institute K.U.Leuven (Leuven Chinese Studies XVII) (Leuven 2007).
"Mission and Medicine: Between Canon Law, Charity and Science", in: Staf Vloeberghs (ed.), History of Catechesis in China (Leuven Chinese Studies XVIII) (Leuven 2008) pp. 37-68. "Die Förderung der Jesuitenmission in China durch die bayerischen Herzöge und Kurfürsten", in: Renate Eikelmann (ed.), Die Wittelsbacher und das Reich der Mitte. 400 Jahre China und Bayern (München 2009).
"Per Pedes Apostolorum: Bishop Johannes Müllener CM in Sichuan", in: Lu Yan & Philip Vanhaelemeersch (eds.), Silent force: Native converts in the Catholic China mission (Leuven Chinese Studies, vol. 20) (Leuven: Ferdinand Verbiest Institute, 2009).
"A Collection of Documents Concerning the Chinese Rites Controversy in the Biblioteca Queriniana in Brescia", in: Roman Malek, Gianni Criveller (eds.), Light a Candle. Encounters and Friendship with China. Festschrift in Honour of Angelo Lazzarotto P.I.M.E. (Collectanea Serica) (Sankt Augustin 2010).
---