Dr.
Aude
Lucas-Lesain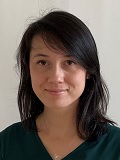 Internationales Kolleg für Geisteswissenschaftliche Forschung "Schicksal, Freiheit und Prognose. Bewältigungsstrategien in Ostasien und Europa"
Hartmannstr. 14
91052 Erlangen
Home Institution:
IKGF Visiting Fellow October 2020 – April 2021
IKGF Research Project:
Oneiric Predictions Questioned in Mid-Qing Fictional Literature
Curriculum Vitae
Aude Lucas-Lesain obtained her doctoral degree in 2018 from Université Paris Diderot, where she also taught Chinese language. Her research broadly deals with the emergence of a subjective expression in xiaoshuo and biji literature of the early and mid-Qing period. Her dissertation, financed by a French "contrat doctoral" at the Doctoral School 131 and by a doctoral fellowship bestowed by the Chiang-Ching Kuo Foundation for International Scholarly Exchange, encompassed late imperial dream narratives of the Chinese literature of leisure. She carried on her research on dream motifs in xiaoshuo and biji through a postdoctoral project conducted at the Ecole française d'Extrême-Orient in 2019. She taught Chinese history and classical literature at the Université de Strasbourg for two semesters between 2019 and 2020.
Her project at the IKGF deals with the failure and/or reinvention of traditional motifs in oneiric predictions. She aims at highlighting how authors of premodern times questioned usual prophetic and dream interpretation patterns and subverted them in inventive rewritings.
Selected Publications
Articles
| | |
| --- | --- |
| 2019 | « Expressing Desire Through Language: The Paradoxes of the 'Baodai' Relationship », in Paolo SANTANGELO (dir.), Ming Qing Studies 2019, Rome : WriteUp Site, p. 87-109. |
| 2018 | « Disguised Subjectivity in Two Chinese Fictional Dream Narratives of the Qing », Extrême-Orient, Extrême-Occident, n° 42, p. 179-203. |
| 2017 | « Oublier son origine : l'amnésie de soi comme condition de la subjectivité dans le Rêve du Pavillon Rouge (Honglou meng 紅樓夢) de Cao Xueqin 曹雪芹 (XVIIIe siècle) », Travaux en cours, n° 13, p. 203-214. |
| 2015 | « Entre maîtrise et déraillement : dissonants retours à la vie dans la littérature chinoise de récit (XVIIe siècle) »Actes du 2e Congrès International de l'Association française d'ethnologie et d'anthropologie. |
---