Prof. Dr.
Aida
Bosch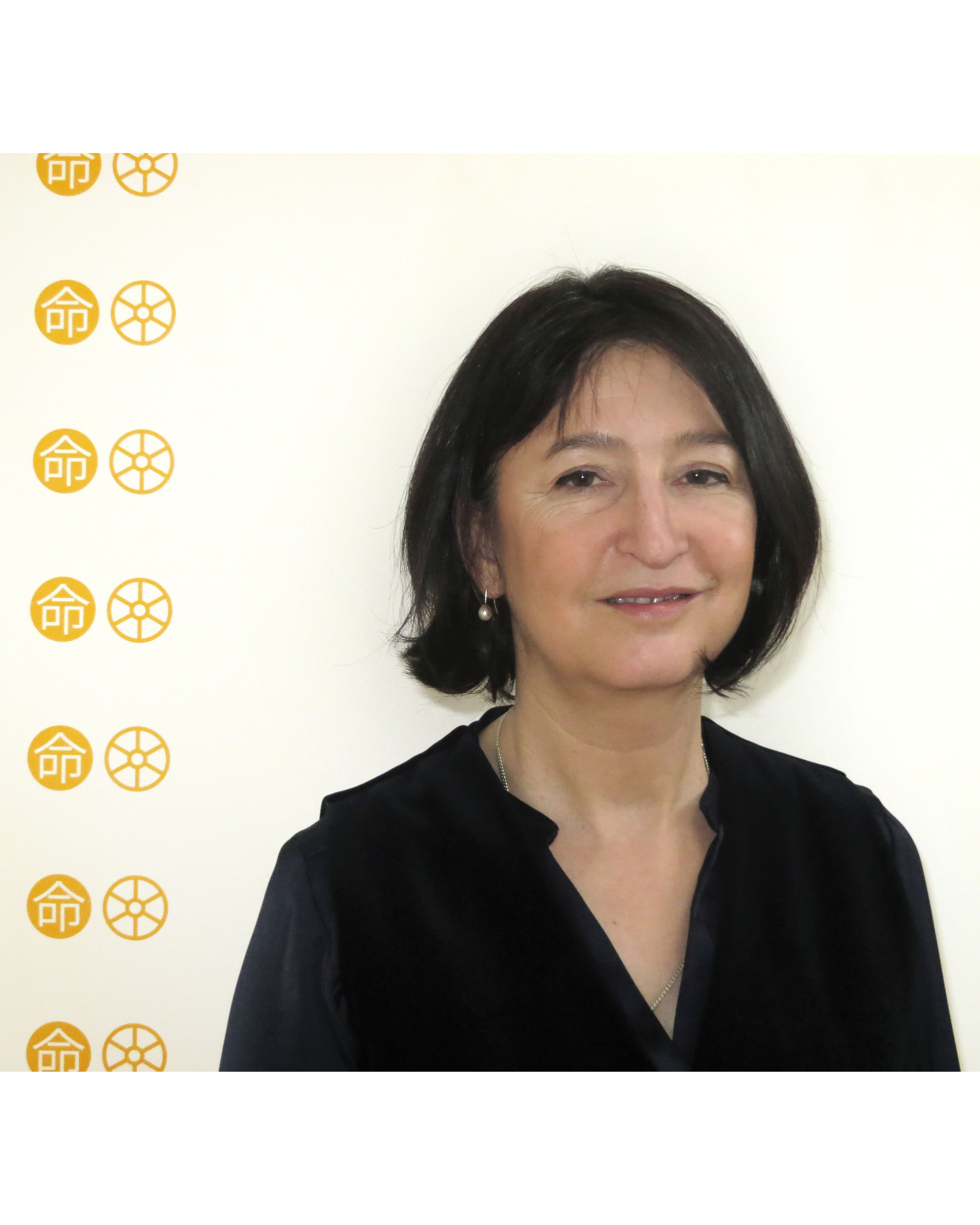 Internationales Kolleg für Geisteswissenschaftliche Forschung "Schicksal, Freiheit und Prognose. Bewältigungsstrategien in Ostasien und Europa"


IKGF Visiting Fellow October 2016 - March 2017
IKGF Research Project
Ritual Aesthetics and Social Theory
Curriculum vitae
After her Master exam in sociology, political science and history in 1989, Aida Bosch took up a position as lecturer and researcher at Erlangen University's institute for Sociology, teaching labour, gender studies and social theory. Her research fields included knowledge dissemination studies, investigations on cross cultural businesses and organisational studies, with the goal to involve a cultural perspective into the analysis of organisational action and internal relations. She was promoted Dr phil. in 1998 with her thesis "From Interest Conflicts Towards a Culture of Rationality" in intra-company industrial relations. Changing to an assistant professorship (C1/W1) in 1996 Aida Bosch turned increasingly towards sociology of knowledge and cultural sociology, studying the role of objects in social identities under conditions of exclusion or disadvantage, for which she habilitated in 2009 at the Philosophical Faculty, University of Erlangen. Having been appointed apl. Professor at the same faculty in 2015, she is now researching and publishing on cultural, symbolic and aesthetic dimensions of human life from theoretical and empirical perspectives, on rituals, objects, the development of visual methodologies and the analysis of aesthetical practice, on which she organised a well-noticed conference on "Aesthetical Resistance against Destruction and Self Destruction" in early 2016. Bosch is (co-) author and editor of six books, numerous book chapters and journal articles, member of the German Sociological Association and its sections of cultural sociology, sociology of arts, sociology of knowledge and visual sociology. In late 2016 she was awarded a research fellowship at IKGF, during which she will focus on the cultural sociology and anthropology of prognostic rituals.
Selected Publications
Books
| | |
| --- | --- |
| 2010 | Konsum und Exklusion. Eine Kultursoziologie der Dinge. Bielefeld: Transcript Verlag. |
| 1999 | (with P. Ellguth, R. Schmidt, and R. Trinczek) Betriebliches Interessenhandeln, Vol. 1: Zur politischen Kultur der Austauschbeziehungen zwischen Management und Betriebsrat in der westdeutschen Industrie. Opladen: Leske+Budrich. |
| 1997 | Vom Interessenkonflikt zur Kultur der Rationalität. Neue Verhandlungsbeziehungen zwischen Management und Betriebsrat (Schriftenreihe Industrielle Beziehungen Band 11). München and Mering: Rainer Hampp Verlag. |
Books edited
| | |
| --- | --- |
| 2003 | (with D. Böhn et al.) Deutsche Unternehmen in China. Märkte, Partner, Strategien. Wiesbaden:Deutscher Universitäts Verlag. |
| 1999 | (with H. Fehr et al.) Sozialwissenschaftliche Forschung und Praxis. Wiesbaden: Deutscher Universitätsverlag, Wiesbaden |
Articles
| | |
| --- | --- |
| 2016 | Ritual, in: J. Kopp/ A.Steinbach (Ed.): Grundbegriffe der Soziologie (11th Edition). Berlin: VS Springer Verlag. |
| 2015 | Unsicherheit, Krise und Routine. Zur Rolle der Dinge in der menschlichen Lebenswelt, in: C.Wulf/J. Zirfas (Ed.), Unsicherheit. Paragrana, Internationale Zeitschrift für Historische Anthropologie 24 (2015/1) pp. 209-220. |
| 2015 | Ambivalenzen der Bildkommunikation. Ist eine Vorherrschaft der technischen Bilder unausweichlich? In: E. Liebau/J. Zirfas (Ed.): Arenen der ästhetischen Bildung. Zeiten und Räume kultureller Kämpfe. |
| 2014 | Mimesis und Transformation. Das fotografische Bild als Aktant mit paradoxen Wirkungen, in: V. Mironov/C. Wulf (Ed.): Mimesis und kulturelle Metamorphosen. Paragrana, Internationale Zeitschrift für Historische Anthropologie 23 (2014/2), pp. 153-164 |
| 2014 | Identität und Dinge, in: S. Samida/M. Eggert/H.-P. Hahn (Ed.): Handbuch Materielle Kultur. Bedeutungen, Konzepte, Disziplinen. Stuttgart: Metzler Verlag. |
| 2012 | (with C. Mautz) Die Eigenlogik globaler Krisenbilder. Kriegsfotografie zwischen Ethik und Ästhetik, in: H.-G. Soeffner (Ed.): Transnationale Vergesellschaftungen. Verhandlungen zum 35. DGS-Kongress in Frankfurt am Main, Vol. 1. Wiesbaden: VS Verlag für Sozialwissenschaften. |
| 2012 | (with C. Mautz) Für eine ästhesiologische Bildhermeneutik, oder: Die Eigenart des Visuellen. Zum Verhältnis von Text und Bild, in: H.-G. Soeffner (Ed.): Transnationale Vergesellschaftungen. Verhandlungen zum 35. DGS-Kongress in Frankfurt am Main, Vol. 2. Wiesbaden: VS Verlag für Sozialwissenschaften. |
| 2012 | Das Glück in der Moderne und die Tragödie der Kultur. Eine soziologische Perspektive, in: Psychologie & Gesellschaftskritik 141 (2012/1). |
| 2012 | Sinnlichkeit, Materialität, Symbolik. Die Beziehung zwischen Mensch und Objekt und ihre soziologische Relevanz, in: S. Moebius/S. Prinz (Ed.): Das Design der Gesellschaft. Zur Kultursoziologie des Designs. Bielefeld: transcript Verlag. |
| 2007 | Global flows: Subjekt, Mode und Konsum in den globalisierten Kreisläufen, in: M. Gottwald/M. Klemm/B. Schulte (Hg.): KreisLäufe – CircularFlows (Diskursive Produktionen. Text, Kultur, Gesellschaft 9). Berlin: LIT-Verlag. |
| 2003 | (with J. Renn) Wissenskontexte und Wissenstransfer: Übersetzen zwischen Praxisfeldern in der "Wissensgesellschaft", in: H.-W. Franz et al. (Ed.): Forschen - lernen - beraten. Der Wandel von Wissensproduktion und -transfer in den Sozialwissenschaften. Berlin: edition sigma. |
| 2003 | (with T. Reichenbach and G. Schmidt) Market Presence and Organizational Structures across Cultural Boundaries: Case Studies on the Involvement of Bavarian Medium-sized Companies in China, in: H. Kopp (Ed.): Area Studies, Business and Culture. Results of the Bavarian Research Network forarea. Münster - Hamburg - London: LIT-Verlag, pp. 186-199. |
| 2002 | (with G. Schmidt et al.) Market Presence and Organizational Structures across Boundaries: Case Studies on the Commitment of Bavarian Small to Medium-sized Business in China, in: T. Kühlmann, T./H. Dolles (Ed.): Sino-German Business Relationships during the Age of Economic Reform. München, Iudicium Verlag. |
| 2001 | (with C. Kraetsch and J. Renn) Paradoxien des Wissenstransfers, in: Soziale Welt 52 (2001/2), pp. 199-218 |
---